Free photography and business insights
Sell candles online
Why sell candles online
The candle industry has been on fire lately - growing at a rate of 3.1% each year since 2011, topping $3.2 billion in revenue in the US alone. Roughly 70% of households in the United States currently use candles which opens up a diverse market to sell to.
Candles can be used for a wide range of purposes - such as relaxation, decor, or celebrations like birthdays and weddings - allowing you to differentiate your brand and carve out your niche. Candles also make a great gift idea for housewarming parties, the holiday season, birthdays and more - so there's a ton of possibilities for marketing your candle store for a range of special events and occasions.
How to make candles at home
Candles are relatively easy to make and can be cooked up in any home kitchen. You can purchase candle-making supplies from your local crafts store - or through online retailers specializing in candle-making - such as Nature's Garden or Candles and Supplies. To make candles from scratch - you'll need:
Soy wax
Wicks with anchors
Candle color blocks
Fragrance of your choice
Candle jars (these can be mason jars or any standard glass jar of your choosing)
Once you've got your supplies - you're ready to move on to making your candles:
Start by washing your candles jars to remove any dust or residue from the glass.

Place the wick and anchor at the bottom of the jar and add a touch of hot wax to secure the anchor in place. Set the jar aside.

Now, it's time to melt the soy wax. Place your soy wax into a pot filled with water and boil the mixture at medium heat until the wax melts.

Once the wax is melted, place a few drops of your fragrance to create your perfect scent. You can also mix in color blocks to tinker with the color of the candle. Feel free to get creative with your scents and colors but remember to keep them on-brand. A multi-colored tutti-frutti candle is a great idea for a children's birthday party, but might not so much if your niche is aromatherapy candles. Stir the fragrance and color blocks until they've melted and evenly spread.

While the mixture is still liquid, pour the wax into your jar while ensuring that the wick stays in the center. Do this slowly to avoid spilling the mixture over the side of your jar.

Sit the candles aside to harden. You'll start to notice the wax harden quickly at the top - but you'll want to give it about 12-15 hours to harden fully.

When the candles have hardened - trim your wicks (if necessary) and brand the candle with a label. The label can be a simple sticker with your logo or you can add additional info about your products - it's up to you!











Marketing your candles
If you decide to create ads for your candle business, it's important to note that 90% of all candles sold have been purchased by women. Marketing to women has a greater opportunity for sales. If you decide to target ads for men, you'll need to promote scents they'd like and position it for a different yet appealing use as most men don't use candles for decor purposes.
About three quarters of candle consumers say that the candle's fragrance is very or extremely important. You can differentiate your brand from others with the types of scents you create. You could create a collection of floral scents, candy scents, outdoorsy scents, and more! Feel free to get creative with your scents - just remember that the more nontraditional your scents, the more focused your marketing strategy needs to be.
Candles are often purchased for aromatherapy or relaxation purposes. Around 9 out of every 10 candle consumers say they purchase candles to make their home feel cozy. If you choose to go down this route - using relaxing and peaceful imagery can help attract consumers to your brand. You'll want graphics with soft colors such as white to help create a modern, yet relaxed look. You can even add quotes about relaxation to your candle jar label.
You can also create content on your blog and social media that helps your customers relax and feel a sense of calmness. Some blog ideas you could use might be:
10 Ways to Use Candles for Relaxation
Popular Candle Scents for a Cozy Home
How Can Candles Aid in Meditation and Relaxation?
And don't forget that since candles are considered great birthday gifts - you can promote your candle business to birthday freebie groups and offer a free birthday candle with the purchase of a candle from your store. It'll attract a different demographic of people that usually aren't targeted by candle brands and help to grow your audience.
Business model
Depending on the size of the jar and the cost of goods, you can typically price each candle between $10 and $25. Glass jars can break during shipping - so be sure to include special fragile packaging into your shipping costs to ensure the business remains profitable. You may also choose to sell other products alongside your candles that adhere to the branding you've chosen. For example, if you're marketing candles for relaxation and meditation - you may also choose to sell essential oils or incense with calming fragrances.
DIY tips
With a DIY business, production can eat up all of your time, leaving little time left to actually run your business. Without sacrificing the handmade aspect of the products, are there tasks that you can outsource? Say you make stuffed toys. The fabric cutting or stuffing can be outsourced to a freelancer, while you are still responsible for the fine details and construction. Or, maybe the hands on tasks are what drive you? Hire an intern to help manage fulfilment, shipping, and customer service, or automate business tasks.
Pricing handmade products is trickier, because there is not only your time to consider, but there is value in the artistry and uniqueness of your work. Follow general guidelines for ecommerce pricing, but be sure to factor in labour (including your own), and don't devalue your talent.
Handmade items will invariably need to priced higher than their mass-produced counterparts. What makes a customer want to buy your one-of-a-kind dress over fast-fashion is the uniqueness, ethical production, and craftsmanship. This information should be woven into all of your site copy, including product pages and FAQs. Tell customers why it's worth paying more for handmade.
Use storytelling to share your handmade process and personal journey through video, on your shop's blog, and in marketing. Build a strong consistent voice on social to represent you and your brand. In many cases customers buy from smaller brands because they are buying into the lifestyle around that brand, or want to buy a piece of you, the creator. Highlight what differentiates you from your competition, and lean on the thing that larger brands can't: making the experience personal and one of a kind.
Another benefit to handmade goods is the ability to tailor products to customers' needs. If you offer custom or made-to-order services, be sure to communicate clearly your production and shipping times.
Start your own home-made candle store today!
Candles are easy to make and can be cooked up in any home kitchen. Why not build you're own online business today!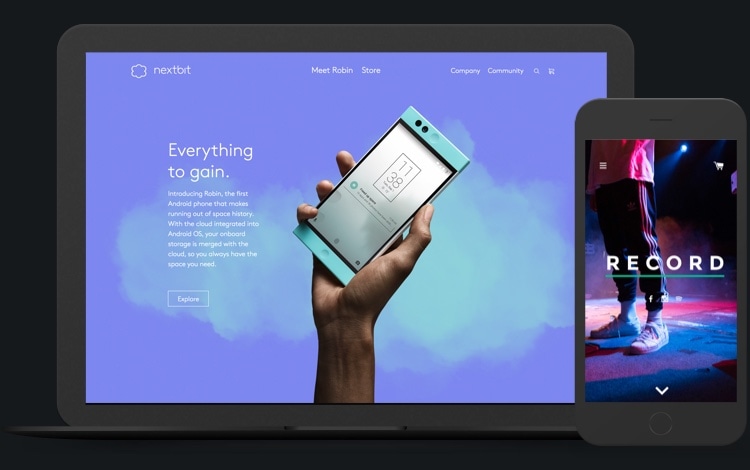 Your download is starting now…
Get first access to free photos and other Burst content. Unsubscribe anytime.
Get first access to free photos and other Burst content. Unsubscribe anytime.